It's the middle of summer, and you are a part-time worker at a retail store. The store is full of parents buying new clothing for their children because school starts in just a few weeks. Now imagine that you are refolding clothes on the sales floor when BAM, a guy trips over a mannequin and he's not getting up. The sales associates and managers rush towards the young man to see if he is okay. But after a few minutes, the guy stands up and runs away.
What had just happened? You think to yourself as you head back towards the front of the store to refold clothes. But when you get there you notice that the shelves are empty. You rush to your manager to report what has happened. Your manager then connects the recent events and concludes that your store has just fallen victim to organized retail theft.

This ongoing crime has become more common in the United States in recent years. Organized retail theft (OTR) is not just petty shoplifting but rather is a group of professional shoplifters that go from store to store stealing hundreds of dollars worth of merchandise. OTR can happen in a couple of ways:
A mob of people can come into a store and just take things from the shelves, knowing that the employees cannot stop all of them.
A single person creates a diversion so others can grab the goods and run away with them.
The National Retail Federation recently made a study and 85 percent of retailers say that OTR has gotten worse in the last 3 years. The FBI has also stated that organized retail theft costs the United States 30 billion dollars every year. That is why retailers and law enforcement are working together to create new ways to stop OTR.
Evolution Robotics Retail is a company that uses its vision-based technology and analytical tools so they can help loss prevention in stores. Evolution Robotics Retail has recently made a new system that will help decrease the possibility of OTR, their system is called ShelfHawk. ShelfHawk is used to:
Make accurate, real-time shelf-sweep alerts
Automatically record videos of sweeping events for Loss Prevention investigation
Stock level audits and alerts
Planogram and end-cap compliance
Enterprise-level reporting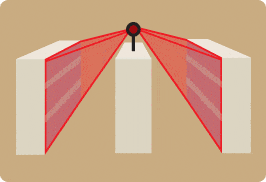 ShelfHawk continuously checks the store's shelves so they can determine if a sweep has been made.
Many other companies are also progressing in their abilities to stop OTR from increasing. For example, Target has managed to keep their OTR at a constant rate and the reason for this is because:
Diversity in hiring their security department- Target doesn't just hire from law enforcement, they hire lawyers that use to work with the FBI, people with experience in information systems, finance, and analytics so it can help predict what thieves might go after next.
Intergroup cooperations
Technology- Target uses IP-based camera systems that survey the surrounding area.
Partnerships- Target works with law enforcement and other retail stores.
So whether you have a great loss prevention team like target, or have an advanced system that is provided by Evolution Robotics Retail make sure that you keep your store safe from organized retail theft. And make sure you report any suspicious activities so retail stores can no longer be afraid of organized retail theft.