Management Staff Guidelines:
Do your best to remain calm. With the proper steps, grocers can be a large part of the solution to the current crisis.
Send a simple message to your employees regarding the precautions they should take. This should include instructions like: "wash your hands frequently (for at least 20 seconds), refrain from touching your face, and if you feel any symptoms of sickness, please stay home." Here's a template for this message.
Make sure your store is clean. The staff should be using gloves and washing their hands at regular intervals. If possible, have hand sanitizer available for both employees and customers. Have shopping carts and hand baskets been cleaned?
Inform employees that this virus will cause stress inside the store. However, it's still important to be an example to customers by answering questions patiently and encouraging good hygiene in the store.
Store Guidelines:
Do your best to stock the store with additional products for the emergency. These items are in high demand during this time:

Water.
Dry food, canned food, bulk dry nuts, and grains.
Hand sanitizer.
Emergency kits.
Paper and sanitary goods.

Consider limiting the customer purchasing quantity of specific items to each customer/ transaction. This will help you keep toilet paper in stock for a long. Here's how to do this in IT Retail's back-office.

In Product Maintenance, enter the UPC of the item (for example, toilet paper).
Under Special Pricing, select Limited- Pricing
Enter Price and Qty similar to below. This will ensure the first 3 items within a transaction cost $5.00. After 3 items have been purchased, any remaining items will cost $100 each.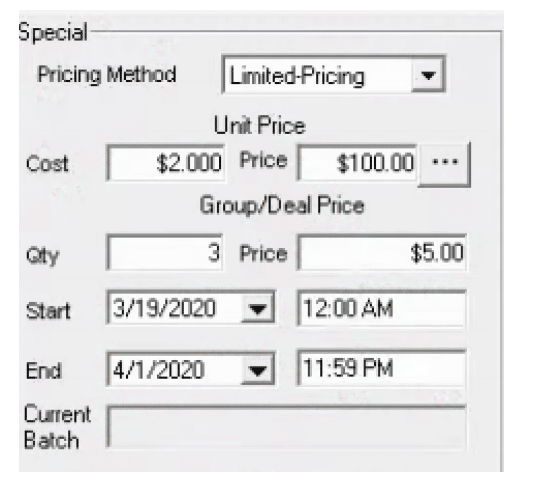 Here's what it will look like on the front-end lane after the Limited-Pricing is saved.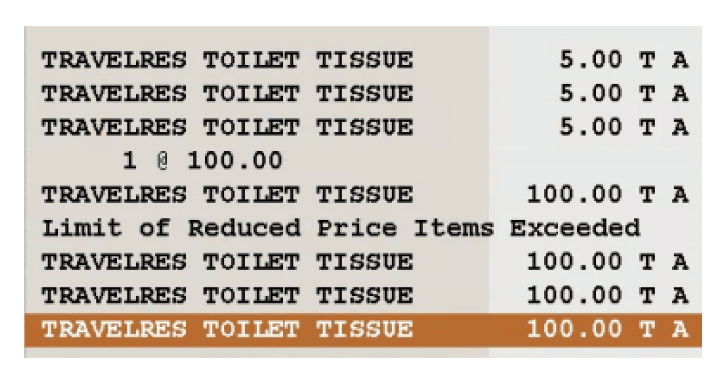 Start a special shopping hour for the elderly, the most at-risk population for the virus. Have staff offer extra assistance to shoppers during this time.
If necessary, change the store hours to match local restrictions. Make sure you care for employees and offer them support during the crisis.
Consider a no return policy for the next couple of months. This limits the spreading of germs to customers and staff members.

Update your customers of changes to store policy using online tools like social media and your website.
Special Considerations:
Take store sales online. This can be done in a matter of days with our software. [read more]
Provide a mobile checkout option. This encourages shorter lines, saving you money on staffing costs. [read more]
Check your reports for ordering and staffing regularly. [read more]
Here's a template for a precautionary letter to send to your staff. Make sure employees are properly informed of new store procedures during the crisis.
From one grocer to another, I hope this helps. Stay safe and keep being heroes!
Feel free to reach out to our contact page if you need more information.
– George Goodwin