In three months, it seems as if the grocery industry has turned upside down. For example, last year, a mere 4% of grocery transactions came from online shopping whereas now, mobile shopping app downloads have increased by as much as 218%. Stores that once prided themselves in offering 24h service must now restock quickly within a 12-hour window. Studies suggest that grocery sales can expect to become one of the largest retail sectors within the first half of 2020 as they rise exponentially. Simply put, today's current environment has completely changed the grocery landscape for the months to come.
As stores become more competitive, companies must provide bigger differentiators in addition to product quality. IT Retail outlines three rising customer demands grocers can expect within the coming months:
Convenience – According to the National Retail Federation, almost 83% of consumers cite shopping convenience as an important factor in the overall shopping experience. This includes seamless mobile ordering, flexible pick-up options, and readily-available customer service. For this reason, buy-online pick-up in-store processes have risen in popularity as customers can pick up orders when they're ready, review their orders before leaving, and possibly make additional purchases while in-store.
Solution: IT Retail's POS software enhances your mobile shopping applications by facilitating inventory location and tracking purchase limits all through your preferred mobile device. Associates can quickly assemble their orders while managing inventory through one POS solution.
Faster Checkout Speeds – Although new social distancing guidelines encourage a six-foot distance, that rule may be hard to follow in a congested checkout lane. New point-of-sale technology must not only accelerate checkout, but it should be able to accurately capture data within a safe distance.
Solution: To keep lines moving smoothly and quickly, accelerate checkout with enterprise-grade technology such as Zebra Technologies' rugged scanners and MP7000. Move customers outside of high-density areas without compromising data capture accuracy thanks to Zebra's omnidirectional intelligent scanners and fast processors.
Bulk Items – To avoid multiple trips to the grocery store, customers prefer buying in bulk; however, if left unregulated, bulk orders can cause a significant toll on your inventory management strategy, leading to more out-of-stocks and lost customers.
Solution: With the help of Zebra's inventory management technology and IT Retail's user-friendly software, control purchase limitations right at your POS without hindering the customer experience. Furthermore, track inventory quantities to eradicate surprise out-of-stocks to increase visibility and product availability.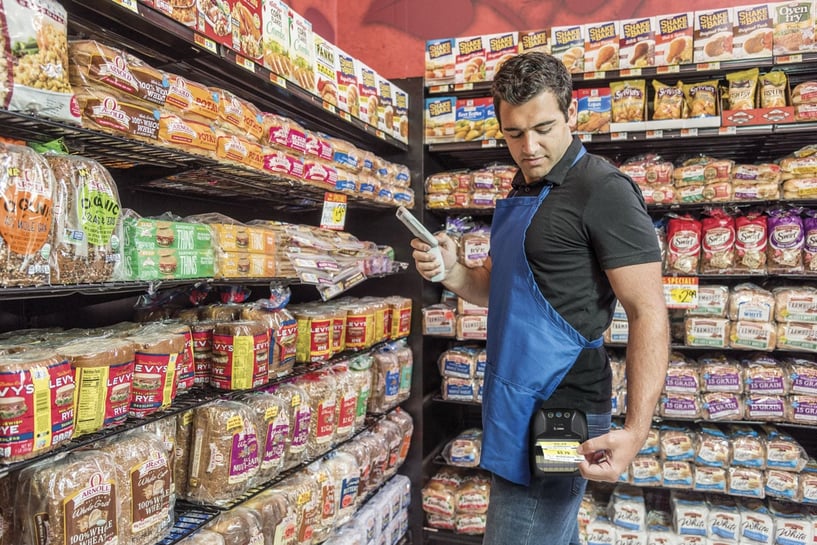 To exceed customer expectations, IT Retail partners with Zebra Technologies to deliver customer-centric services that empower your teams while protecting your associates, such as:
POS software & inventory management – keep shelves stocked with features to limit quantities and provide easy reports that bring increased visibility.
POS hardware – check people out faster to eliminate crowding and promote social distancing.
Associate efficiency and task distribution – tag your shelves efficiently to facilitate inventory location and increase customer and employee satisfaction.
Coming from a long line of grocers ourselves, IT Retail strives to provide you with the best tools and resources to navigate through change. Explore our full list of essential POS tools and technologies to find countless ways to maximize your business.
To learn more about any of the technologies discussed above, contact us today for a free assessment of your current POS system and stay ahead of change with solutions engineered to overcome challenges.
Feel free to reach out to our contact page or email me directly at George@itretail.com.
Thanks, George Goodwin
Tags: Customer Expectations, Online Shopping, Click and Collect, Inventory Management, IT Retail, Data Capture, Zebra Technologies, POS System
___________________________________________
1. https://www.cnn.com/2020/03/19/business/grocery-shopping-online-coronavirus/index.html
2. https://www.forbes.com/sites/shelleykohan/2020/03/25/positive-growth-in-the-grocery-segment-fueled-further-by-the-coronavirus-keeping-people-home/#45446c7a4cae