In a time of ultra-sanitization, keeping your Ingenico and Verifone pinpad device clean is more important than ever.
It will help to provide a more hygienic and pleasant experience for your customers and employees.
Customers respond well to visible cleaning practices, and regular sanitization of frequently-touched surfaces can help prevent the spread of COVID-19. Overall you will save money without damaging your hardware and having to buy new ones. If you need some new pin pads, feel free to reach out to our sales team, IT Retail.
Also, let us know if you need help setting up contactless payments we can help you.
Here are some things to keep in mind while cleaning your Verifone pin pad. Additionally, we have
included instructions for the best method of cleaning and sanitizing your device.
Never spray, coat, or pour any liquid, sanitizer, or disinfectant directly onto the device. This action can permanently damage your pinpad.

Never use bleach, hydrogen peroxide, thinner, trichloroethylene, or ketone-based solvents as they can all deteriorate plastic and rubber.

Avoid vigorous scrubbing and shaking to prevent triggering a tamper alert. Similarly, avoid rubbing strongly with a dry towel, as this can cause an electrostatic discharge and trigger a tamper alert.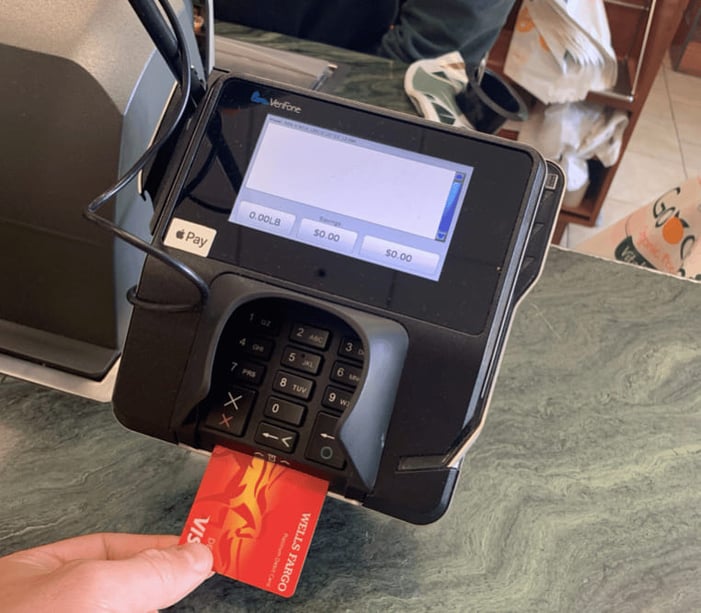 Here are the steps to take when cleaning your Verifone device:
Turn off the device and unplug it from the power source before starting.
Use a water-dampened, clean microfiber cloth to clean it gently and remove any dirt, debris, or residue.
One or two drops of a pH-neutral, non-scrubbing soap may be used, but do not use solvents, harsh detergents, or abrasive cleaners. As mentioned above, this can permanently damage your pinpad.
After cleaning, sanitize the device with an alcohol-based wipe or appropriate alcohol-based cleaner. We recommend 70-90 percent strength isopropyl alcohol. Use a microfiber cloth to sanitize the pinpad gently. Avoid pressing hard on the displays, as this can damage the screens.
Once the device is completely dry, reconnect it to the power source and turn it back on.
With these tips and steps, you can help keep your store safe. By regularly cleaning frequently-touched surfaces, you are protecting your customers and your employees.
For more information about essential grocery tools, protecting your business from COVID-19, visit the CDC's website.
If you have any questions or concerns, please use your Jira Service Desk account to open a case. A Verifone Support agent will respond and assist you. For urgent issues, call 1-800-VERIFONE (837-4366). Additionally, you can visit Verifone's support website for more information about your specific concerns
P.S. Feel free to reach out about anything we love your input, stay safe and keep being heroes!