IT Retail + FutureProof Retail Story [Free Mobile Checkout Solution]
Apr 30, 2020
•
5 min read

0:54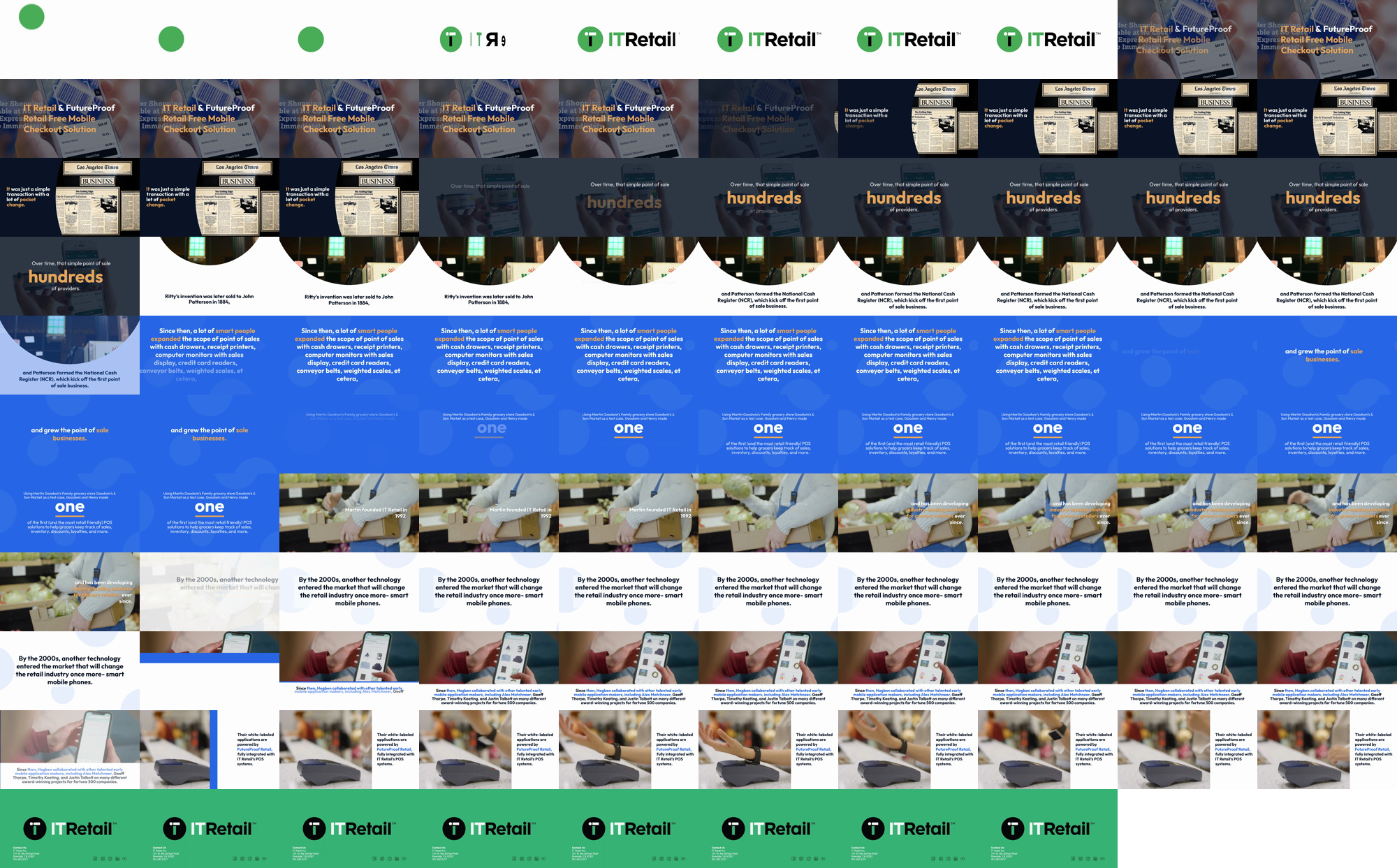 IT Retail and FutureProof Retail share a joint mission to provide grocery retailers with a trusted and affordable platform that evolves with the retailer's needs. Our point of sale story.
In the beginning, the "point of sale" was simply the moment when a customer reaches into their pockets and gives the buyer money in exchange for a good or service. It was just a simple transaction with a lot of pocket change. Over time, that simple point of sale transaction has evolved into an industry with hundreds of providers.
In 1879, an Ohio saloonkeeper named James Ritty decided there must be a better way to organize all the pocket change, so he invented the first cash register (patented in 1883)! Ritty's invention was later sold to John Patterson in 1884, and Patterson formed the National Cash Register (NCR), which kick off the first point of sale business. Since then, a lot of smart people expanded the scope of point of sales with cash drawers, receipt printers, computer monitors with sales display, credit card readers, conveyor belts, weighted scales, et cetera, and grew the point of sale businesses.
Then the 1990s happened- with the proliferation of computers and software innovations, the POS business transformed into a full-service industry. With a rapidly forming industry and many outside software players, Martin Goodwin and Bob Henry decided that it is vital to make sure that the retailer's actual needs are the center of the new retail technology innovations. Using Martin Goodwin's Family grocery store Goodwin's & Son Market as a test case, Goodwin and Henry made one of the first (and the most retail friendly) POS solutions to help grocers keep track of sales, inventory, discounts, loyalties, and more. Martin founded IT Retail in 1992 and has been developing industry-leading solutions for grocery retailers ever since.
By the 2000s, another technology entered the market that will change the retail industry once more- smart mobile phones. William Hogben made one of the first applications launched in the App Store in 2007. Since then, Hogben collaborated with other talented early mobile application makers, including Alex Matchneer, Geoff Thorpe, Timothy Keating, and Justin Talbott on many different award-winning projects for fortune 500 companies. In 2012 Hogben met Di Di Chan, an educator, businesswoman, and an impatient shopper who can't stop complaining about waiting in long checkout lines. The two bonded over the philosophy of time, and along with their very talented teammates, established FutureProof Retail at the end of 2013 to offer a mobile checkout solution that both shoppers and retailers will love.
In 2015, El Rancho and California Fresh Market grocery stores became one of the first independent grocers to launch a scan-and-go mobile checkout application in the nation. Their white-labeled applications are powered by FutureProof Retail, fully integrated with IT Retail's POS systems. This collaboration was a success. "This is the first one that works," the co-owner of California Fresh Market Alfred Holzheu said in a KSBY interview. Holzheu predicted the app to be the norm of the future; he told KSBY news, "I think over time, it will be how bricks and mortar stores compete against online shopping."
Holzer was right. It'll take a few more years before the e-giants, Amazon and Alibaba, come offline to compete in the physical retail space. When Amazon and Alibaba started acquiring stores in 2017, both FutureProof Retail and IT Retail strengthened their services into a full platform. A "POS platform" includes the core point of sale features, but on top of the platform, integrations are more seamless, and new features are a developer away, not a call to the point of sale provider to ask them for a new integration or feature. The idea is that sometimes it'll take a village of top service providers to deliver a high-quality solution for retailers and shoppers affordably. Both IT Retail, with a specialized focus on the grocer's experience, and FutureProof Retail, with a dedicated focus on the user's experience, realized early on that the future of retail technology needs a platform at its core. The two teams have been working together to make sure they have the best solutions in the market.
In 2020, retailers must have a full point of the sales platform for their stores. They now expect their point of sale platforms to connect with both online solutions and mobile solutions to help digitize their in-store experience and better connect with their shoppers. For example, Walmart, Sam's Club, AHOLD, Stop and Shop, Dollar General, HEB, and Wegmans are some early adoptions that have already digitized their stores with their in-house mobile checkout application. FutureProof Retail, fully integrated with IT Retail's POS Platform, leads the scan and go industry with 4.9 stars App store review. It's the only mobile checkout solution in the market that's fully transparent with the business models, does not lock retailers down with long-term contracts and expensive setup costs are customizable for long-term growth, and has best in class proven results. IT Retail, working with FutureProof Retail, continues to prioritize both the grocer's experience and the shopper's experience. The two companies teamed up to combine their proven systems and their user-first philosophies in offering retailers and their shoppers a reliable, honest, affordable, and transparent platform service.
Learn more today by scheduling an appointment here; currently, FutureProof is donating their line free checkout solution FREE of charge for grocery stores, supermarkets, pharmacies, and other retail establishments that serve essential community needs while there is a national state of emergency.
COVID-19 UPDATE
In the service of public health, FutureProof Retail is donating its line-FREE checkout technology to grocery stores and other retail establishments that serve essential community needs.
Other Helpful Links:
Coronavirus information center: CDC – Coronavirus Disease 2020
Case dashboard: Disease Dashboard
What customers are looking for Coronavirus Grocery List