How many times have you gone to the grocery store on a fixed budget? I know I have! Throughout college when I would go to the grocery store I would always tell myself not to spend a lot on grocery's because rent and school fees were due soon. So I would go to my local grocery store with a fixed amount in my head and every time I picked something up I would quickly calculate the total amount of my shopping cart in my head so I wouldn't go over my fixed amount. Now if any of you have done this you should know that this is an annoying process because you are constantly debating if you need a certain item or remembering how much each item costs. But our stressing and our mindless calculations are over!

A grocery store called Stop & Shop has developed a new gadget called Scan It! Scan it is a cool device that looks like a regular handheld scanner that you see at most retail stores, but this scanner is wireless. The interesting thing about this new gadget at Stop & Shop is that you can carry it around the store and before you put your item in the cart you scan the product and the price of the item appears on the screen so it keeps track of all the items that you have scanned and how much money you have accumulated.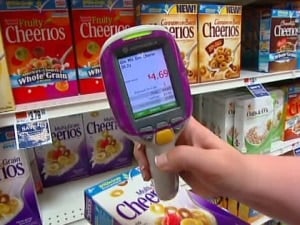 Another great perk of 'Scan It' is that when you have finished shopping you go to a self-checkout counter scan a barcode above the screen and all of your items are shown on the customer display screen so all that's left to do is pay and you be on your way. Which saves the customer a lot of time of having to scan each item.
Many of you may have your doubts about this new gadget because you may not have a fixed budget so going grocery shopping may not hurt you financially or because this scanner is just another thing that you have to carry around the store. But there is one big benefit to this scanner, it has digital coupons built-in! The digital coupons are programmed into the scanner so when a customer scans an item and a coupon is available for the item, the customer will automatically be offered the coupon. I think that this is a great idea because most people do not spend the time looking through their local newspaper to see which items are on sale. So by being given the coupon automatically people will save money and not have to waste time looking through the newspaper. So I don't care if you are financially comfortable or on a budget, everyone loves to save money!
So in conclusion I believe that this new scanner developed by Stop & Shop will change grocery shopping in many ways. I am interested in trying this product out to see if it's as nice as it sounds. But all I have to say is that I hope that the people in Clifton, New Jersey are taking full advantage of Scan It because it not only saves you money but it also helps you stay on a budget.