So this post is inspired by one of the first grocery stores that truly harnessed the power of social media, generating an unwavering following that far surpasses any of their competitors. Today this company has 1,905,600 followers on Twitter, 547,064 likes on Facebook, and around 500 Yelp reviews at every one of their locations. To put this into perspective, Ralphs (Kroger) has 7,554 followers on Twitter, 2,737 likes on Facebook, and less than 30 Yelp reviews per store. This company has 99.5% more authority and reach on these social media sites than Ralphs, which is one of the biggest grocery stores in America.
Let me go back to Friday of last week. On my way home from Silicon Valley, an ardent follower of this grocery store sat next to me on my flight back. After warmly greeting her, she pulled out her phone to use it for the last time. I glanced over slyly at her screen to see what she was doing (as one does), and to my surprise/ fascination/ delight she was tweeting @WholeFoods. I wanted to blurt out "you're a Whole Foods fanatic? Talk to me PLEASE! Tell me why you are so branded to that company so I can share it with the world!" You see, I am an avid admirer of Whole Foods in regards to the success it has had using social media.
After awkwardly sitting there in silence dying to ask about Whole Foods, but scared that she would not approve of my snooping, I racked my brain trying to find some way to induce a conversation. As the stewardess came by to check on us "Whole foods lady" asked for her bag from the overhead storage, and the stewardess pulled out a bright orange bag. Out of the bright orange bag came a bright orange iPod, and "voila" I had my introductory line: You like orange ehhh? (haha yes I am ohh so suave). From that opening, I was able to unlock the secrets of Whole Foods' success.
Setting up your social media accounts
Once I got back I could not stop thinking about how much other retailers could learn from Whole Foods, and implement in their social media efforts. After much research, I concluded that 3 social accounts are an absolute must for grocery stores: Facebook, Twitter, and Yelp.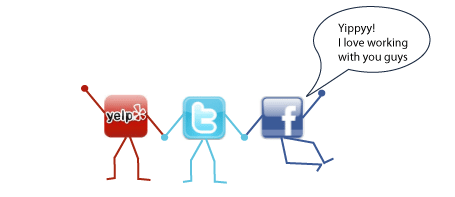 Let me stop you right there if you are misbehaving and thinking that this is all that you need. These are the basics; these social media profiles should be the skeleton of all grocery stores for the promotion of their culture and brand. There are so many ways that you can market your brand and the majority of those cost thousands of dollars. Social media marketing is FREE So do it… Well, don't just do it, do it right, and below I am going to show you how.
1. Know what your company's mission is and stick to it:
Many companies have vague missions, no missions, or do not follow their missions. To develop your company's mission, re-implement your company's mission, and make sure that every one of your employees has the same goals in mind. Social media is one of the best ways to communicate the culture of your store. Develop your backgrounds, your profile pics, your miscellaneous pages, and your descriptions with care, ensuring that they are communicating the message that you want.
2. Know who your customers are and market to them:
While expressing your culture online you also want to keep your customers in mind. Depending on your niche, you want to post, tweet, and describe your company in a way that interests your customers. Be interesting! Do not just put up content to put it up. You need to have someone that is dedicated to posting valuable, funny, interesting, informative, helpful, and cutting-edge information.
3. Engage with your customers:
Don't just post stuff, you need to comment, message, and reach out to your customers. Be friends with your customers. Let your customers know that you care not by telling them, but by showing them. You may even hear discouraging things about your store when you initially start to interact socially, but through your interaction customers are typically willing to forgive. You just have to take the time to show them that you genuinely care.
4. Tell your customers about your social media profiles:
Don't be shy, many of your customers would be more than happy to join you on Facebook, write a review for you on Yelp, or Tweet at you on Twitter– especially if they feel they will look good by being associated with your company. Also, get your employees involved and get them to get their friends involved. Include social media in weekly mailers, at the bottom of receipts, and on store cards, which may require a more advanced grocery POS system.
5. How to use Twitter, Facebook, and Yelp PROPERLY
First, you need to understand the purpose of each social media channel and how to use it. In as few words as possible I am going to share with you how to use each of these mediums:
Twitter What to post – Daily sales, Fresh Deli menu, promote recipes, blog posts, or current promotions:
Create a custom background and a customer profile pic
Fill out description
Use a URL shortener for all hyperlinks
Keep tweets shorter 120 characters to allow for retweets
Post interesting, relevant, catchy content
Tweet at least twice a day
Follow back to build your following
Send a message to each person that follows you and start a conversation
Chat using @
Give twitter only specials, live updates, promote a blog post, recipes, etc.
Facebook What to post Videos, Pictures, News Letters, Coupons, Daily sales, Fresh Deli menu, promote recipes, blog posts, or current promotions:
Create custom profile pic (200 x 200 px)
Have a custom domain (you need 25 followers first)
Upload: pictures, videos, recipes, etc.
Fill out the description entirely and link to your other profiles and your website
Yelp What to post No upkeep necessary. You can address those who leave negative comments directly and request that they reconsider:
Start a profile
Fill out the profile to the best of your ability adding as many details as possible
Add pictures of your store pictures are where you sell your potential customers, so take pictures of your most delicious/ unique items
Encourage customers to review your store on Yelp
Have a Special Offer
6. Analyze your social media efforts:
If you have not already done so create a Google Analytica account (this will allow you to monitor all the traffic that comes to your website). You can then further your analytics by following the steps in this blog post.
A few goodies to get you started:
I know, I know this was a lot to take in. Here are a few tips: you can link your Facebook account to your Twitter account and this will make it so you only have to post on Facebook, and all of your Facebook Posts will be resubmitted to Twitter. You can schedule posts on Facebook using the social media guide.
A list of Supermarkets utilizing social media correctly:
Lowes Food Stores, Fresh and Easy, Phoenix Public Market, Oxbow Public Market, Sunflower Farmers Market, Whole Foods.
Most of all have fun, be fun, and enjoy socializing.