When considering what items to keep in stock at your grocery store, you have to look at the Top products ( most popular ), both for your store and nationwide. While we are all familiar with the biggest brand names, you have to ensure that you are stocking the right brands.
According to a report from Eat This, Not That!, here are the most popular products sold in grocery stores around the country. It is based on a combination of a YouGov study about the most popular grocery items and a Trader's Joe consumer survey for the most popular products.
This list is not ranked, but with the combination of information from both store owners and customers, you can be sure that you are stocking the right brands.
Meat
Tyson Chicken Nuggets
Oscar Mayer Hot Dogs
Omaha Steaks
Johnsonville Sausage Brats
Perdue Chicken
Frozen Foods
Eggo Waffles
Stouffer's Mac and Cheese
DiGiorno Pizza
Totino's Pizza Rolls
Ore-Ida Frozen French Fries
Dairy
Yoplait Yogurt
Ben and Jerry's Ice Cream
Velveeta
Breyers Ice Cream
Sargento Cheese
Canned Goods
Campbell's Tomato Soup
Progresso Chicken Noodle
StarKist Canned Tuna
Prego Pasta Sauce
Chicken of the Sea
Bertolli Pasta Sauce
Cereal
Quaker Oats
Kellogg's Froot Loops
Cheerios
Frosted Flakes
Honey Nut Cheerios
Condiments
Heinz Ketchup
I Can't Believe It's Not Butter
Smucker's Jam
Marie's Dressing
Drinks
Nesquik
Coffee-Mate
Horizon Organic Milk
Organic Valley Milk
Sparkling Mineral Water
Candy
M&Ms
Hershey's Kisses
Reese's Peanut Butter Cups
Snickers
Reese's Pieces
Baked Goods
Betty Crocker Cake Mix
Hostess CupCake
Bisquick
Cookies
Oreos
Chips Ahoy! Chocolate Chip Cookies
Pillsbury Slice and Bake Cookies
Nestle Toll House Cookie Dough
Nabisco Teddy Grahams
Snacks
Ritz Crackers
Snyder's of Hanover Pretzels
Cheetos
Cheez-It Crackers
Jif Peanut Butter
Chex Mix
Chips
Lay's Potato Chips
Fritos
Pringles
Frito-Lay Ruffles
Doritos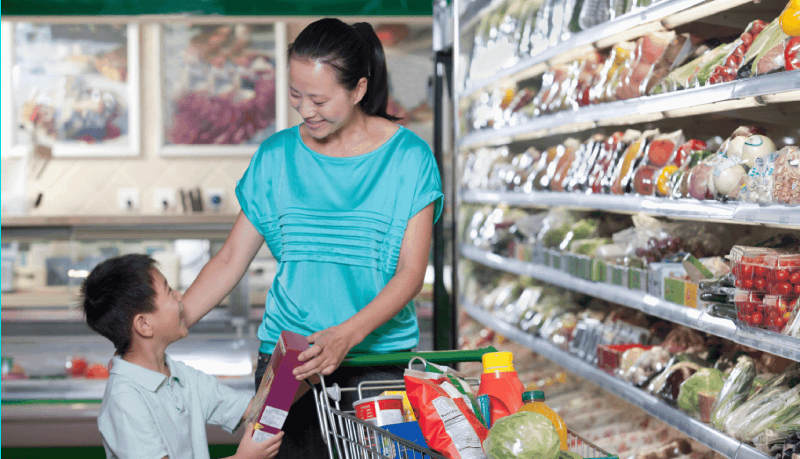 Key Takeaways
Have the right products in your store to encourage higher sales and greater customer satisfaction.
This list enumerates the most popular brand products in American grocery stores based on consumer and grocer information.
If you want to keep your customers happy and increase your profits, you have to have the right items in stock at your grocery store. When customers shop at your store, they should find exactly what they are looking for, and these products are most likely want they want.