Technology is ever-changing, and the environment will continue to become more digital. Educational institutions, service companies, and even retailers have an online presence now. There is an ease that comes with having access to everything you need in the palm of your hand. Retailers, specifically grocery stores, must stay up to date with digital trends. Their success depends on it.
Maintaining a consistent and captivating digital brand is an important step that grocery stores must take. To do this, social media platforms should be embraced. Below, we list reasons why grocery stores must enhance their brand through social media.
1. Be Yourself for the World
The beauty of social media is that you can reach people all over the planet. Your company is easily accessible—it takes one click to learn about a company's purpose and how it impacts the world. You want your company to be as open and transparent with its work as possible; that's how you build trust with the brand. You can make your brand more personal on social media, too. This is accomplished by posting staff bios, so customers can learn about who works behind the scenes. The brand becomes tangible because customers can put a face to it. Content is constantly produced to creatively highlight the business's core values, its brand voice, and the products it provides. Social media allows a company to share posts about things it cares about.
The more you tie in your company's brand with relevant events, the more attractive it is. It shows that the company cares about what is happening socially, politically, and environmentally, AND it wants to make an impact. It demonstrates that it cares about more than just making a profit. By staying in line with the trends, the exposure of the brand increases dramatically too!
2. Get Your Audience Where You Want Them
Social media makes reaching and interacting with your audience a breeze. Having a targeted market in mind, while enhancing your brand online is crucial. Create content and copy with the brand voice that resonates with the demographics your company is seeking out. Social media is a low-cost way of reaching the desirable niche, and it gives you direct control over the messages you share. Who doesn't want the ability to paint your brand however you'd like?
3. Dare to Experiment
There are dozens of online channels that can help your company reach its targeted market. You will want to achieve brand presence in a variety of social media outlets but still focus on the ones that will get you closer to your niche. If you're a grocery store, your audience is probably college students, parents, or anyone who lives on their own and needs to cook for themselves or their family. It's worth your time to investigate which platforms give you access to these people. Remember to keep your brand consistent across social media—it provides credibility.
4. Devise a Plan That Works for You
Once you are ready to begin your social media presence, it is important to set a timeline for your marketing campaign. Use SMART goals: Specific, Measurable, Attainable, Relevant, and Timely. Establish specific branding strategies for your grocery store. Use the platform's analytics to determine if the goals are being met. Set realistic objectives. Make sure that your social media enhances your brand image and business. Set enough time to properly produce content that will build the company's presence and impact on society.
5. Know How to Get (and See!) Results
Social media allows your company to follow its content and deliverables with ease. Trends are recognizable with just a couple of clicks. These analytics tell you which content is working, so you can continue creating more of it. It also shows which content didn't have many interactions so that you can avoid posting it in the future. Analytics allow you to tailor your content seamlessly. Don't get discouraged if your company's reach isn't large at first. It can take as long as 12-18 months to get the results you want. With time, you will see your brand's online presence increase—if you put in the right number of resources and consistent effort.
Social media is one of the leading marketing strategies for any brand out there. Every type of business can benefit from it. Grocery stores must invest time into building their online presence to enhance their brand. Establishing a digital presence increases the store's accessibility and local impact.
IT Retail will transform your grocery store and its brand into an online presence that will leave a lasting impression on anyone who encounters it. Reach out to us now to learn more!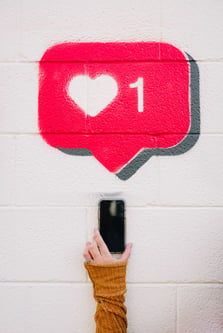 Key Takeaways
Grocery stores must embrace social media if they are to remain competitive in today's digital market.

Grocery stores can stand out by showing customers who's behind the operation and by producing content (staff bios, social media posts, etc.) that are true to the brand.

Grocery stores can use social media to reach their audience wherever they happen to congregate.

Grocery stores can benefit from knowing who their target audience is and understanding how to reach them by conducting thorough research.

Grocery stores should have a concrete marketing plan in place.

Grocery stores should understand when they can expect to see results and how to get those results.