Grocery store owners can often overlook the importance of marketing their store. Because groceries are essential, many people don't consider advertising grocery stores.
However, grocers need to market their stores effectively to grow. Without an excellent marketing strategy, you could be missing opportunities to reach new customers and grow your business. Here are some of the best practices for marketing your grocery store.
Why Marketing is Important for Grocery Stores
Marketing is vital for growth. You can expand your reach and connect with new customers while revitalizing your connection with current customers. When you create a genuine relationship with your customers, you become more than a business. Your store becomes a part of the community and essential to the people that live in that community.
George Goodwin, head of marketing at IT Retail and third-generation grocer, sums it up nicely. "Marketing is more than a transaction. It's an experience, and building a friendly relationship that grows over time benefits both the customer and the grocer."
Develop Your Marketing Strategy
To help you decide which marketing tactics to use, you need to create an overall marketing strategy. You may already have some marketing strategies in effect, and you can look at what has worked for you in the past to guide your new plan.
You should start by getting an understanding of your resources. Know what you can and can't offer your customers and how you can most effectively connect with them without overextending your resources.
Additionally, you need to know who you are marketing to. Decide who your target audience is, and find the most effective ways to reach them.
Know what result you want from your marketing. Your end goal will determine what practices you employ.
With a powerful marketing strategy, you can effectively connect with your audience, utilize your resources, and achieve your goals.
The Best Practices for Marketing Your Grocery Store
1. Create or claim business pages online.
Customers that go online to find out about your store should be able to access reliable information. Even if you already have a website for your store, creating or claiming digital business pages allows you to ensure that customers can find accurate information no matter where they go.
Outside of your website, Google My Business is the most crucial tool for providing accurate information to your customers. Google My Business is a small section of information that appears when you Google a company. It includes your address, phone number, website, hours, reviews, photos, and a short description of your store. You should also consider doing the same with other search engines such as Yelp, Safari, Bing, or even DuckDuckGo.
Other sites to claim pages on are Yelp and Yellow Pages. Regardless of which sites you are using, ensure that all information about your business is up-to-date and that your website is linked.
2. Develop a social media presence.
Every successful business needs to have a social media presence. It's the best way to directly communicate with your customers and update them about your store. Additionally, customers can easily reach out to you with questions or concerns.
While social media is incredibly useful, many smaller grocers do not use it. George Goodwin told us that "social media is often underutilized by small grocers because they don't have the resources or help they need."
3. Create a membership program.
One of the best ways to encourage loyal customers is to create a membership program. Offer rewards for shopping at your store, and you can also collect membership fees as an additional avenue for profit such as Costco or even Amazon. However, the primary purpose of a loyalty program is to create a community of dedicated customers and show your appreciation for them. Customers that are part of a loyalty program will have a higher chance of going back and being top customers.
4. Engage with your community.
Engaging with your community is incredibly important for small businesses. It's one of the best ways to give back to your customers and show your appreciation while building an enduring relationship with them.
One way to show that you care about your community is to connect with local providers and sell their products in your store. You can support your local economy and offer an easy way for customers to purchase local products.
5. Offer tastings or free samples.
If you have specific sales or products you want to market, offer tastings or free samples of that product. While you can't do this for all products, it's a great way to showcase special items and advertise promotions. Additionally, if you have your brand of product, samples allow you to share that product with your customers.
6. Have branded reusable products.
Branded reusable products allow you to provide your customers with practical items while advertising your store. One of the most common products offered by grocery stores is reusable shopping bags. With a rising increase in environmental awareness, more and more customers opt for reusable bags rather than plastic or paper.
Additionally, if you have a hot food section in your store where you serve fresh-made products, you can offer reusable cups, mugs, or other containers with your store's logo.
7. Host in-store events.
Hosting in-store events allow you to connect with your community and advertise your store simultaneously. You can host various events, including cooking classes, farmer's markets, or exercise groups.
However, if you are considering in-store events, be sure to include COVID safety measures to keep store visitors healthy. You can also start thinking about what events to host now or even online regardless have a plan to have them take place after COVID-19 has calmed down.
8. Expand your shopping options.
Customers love to have a variety of shopping options, especially in a post-COVID world. You should offer more than the traditional shopping experience for your customers. Depending on your resources, see if you can implement delivery, pickup, mobile order, self-checkout, or mobile checkout. IT Retail can help you with this different hardware and software that integrate with our POS System.
9. Offer digital coupons.
Coupons are always great for encouraging customers to buy more, but nowadays, most customers prefer digital coupons. Digital coupons are much easier for customers to use, as they only have to pull them up on their mobile devices and show them at checkout.
You can also have special coupons for loyalty members or shoppers using your digital options. It's an easy way to encourage customers to perform certain actions and receive a reward.
10. Have in-store advertising.
In-store advertising lets you reach your current shoppers and let them know about promotions, loyalty programs, or special offers. You can hang posters and signs around your store, and you can also advertise promotions over the PA system if you have one.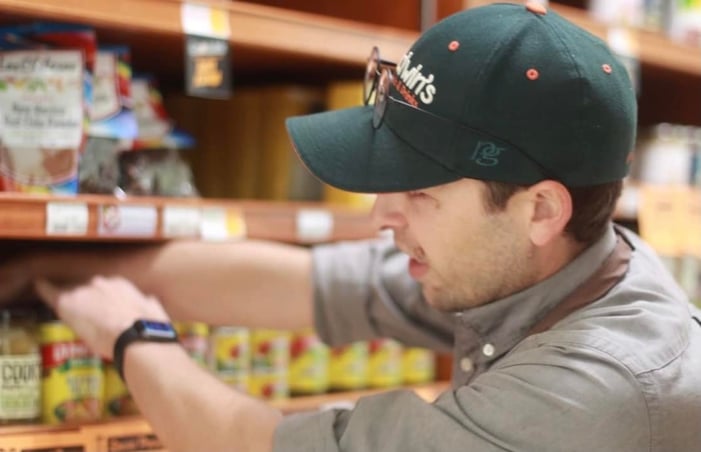 Key Takeaways
While some may overlook the importance of marketing grocery stores, grocers need to employ effective marketing practices to grow.
Marketing your grocery store helps you build a genuine relationship with your customers.
Create a strong marketing strategy to decide which practices you should employ.
Utilize the most effective grocery marketing practices:
Create and claim business pages online.
Develop a social media presence.
Create a membership program.
Engage with your community.
Offer tastings or free samples.
Have branded reusable products.
Host in-store events.
Expand your shopping options.
Offer digital coupons.
Have in-store advertising.
When creating an effective marketing strategy, employ the right practices for your grocery store. Know your resources, audience, and end goals before implementing marketing tactics. With powerful marketing, you can start growing your store and expanding your customer base in no time. If you'd like more marketing support please email George@itretail.comtake or schedule a meet with him here. For more information about grocery store trends and news, make sure you are subscribed to IT Retail's blog.