The pandemic has resulted in a huge spike in online groceries sales. To be more precise, retailers saw a more than
300% spike in online sales
during the first few months of lockdown. This remarkable trend has caused a significant difference in the way people are choosing to shop now. The online grocery boom is rapidly approaching and will be here in no time. Here are some of the trends contributing to the rise in online grocery shopping, as well as some facts about the new market.
The Ease of E-Commerce
Online grocery sales are one of the fastest-growing sectors of e-commerce, with online sales projected to have climbed up to 4% of the sector in 2020. Grocery delivery is easy and efficient and is less time-consuming for many on-the-go individuals. With the rise in online grocery shopping due to the COVID-19 pandemic, many people are suspected to stick with the practice once the world has gone relatively back to normal. If this is the case, more grocery chains will likely begin to adopt an online platform that ensures that customers stay safe and satisfied.
E-commerce Groceries are Now the Norm
In the same way that platforms such as Uber Eats, DoorDash, and GrubHub popularized food delivery, new grocery delivery platforms like InstaCart, Shipt, FreshDirect, and even stores' unique delivery services have made grocery delivery more prevalent than ever. It has been found that 90% of online grocery shoppers are anticipating that they will continue to shop via this method after the pandemic, hugely normalizing this new trend and making it one to watch out for.
Loyalty Programs for Online Shoppers
Paid loyalty programs are on the rise and evolving due to the boom in online shopping. Paid programs are making it easier for online retailers to gain customers that may not have shopped in their physical stores otherwise. Memberships such as Amazon Prime, Walmart+, and Shipt offer intriguing deals that are sure to keep customers satisfied during this difficult time.
On-Demand Delivery
The convenience of on-demand delivery allows for groceries to be delivered to customers within two hours in many cases. This is similar to the average amount of time spent traveling to and from the grocery store and the shopping in between–except now, it can all be done from the comfort of your own home. Same-day delivery makes online grocery shopping convenient for those who need something right away and takes the stress out of preparing to go out to get groceries. This includes fresh foods such as fruits, vegetables, and even meats, so there's no cutting corners or sacrificing a tasty meal when it comes to online shopping.
Many Popular Grocery Store Chains Now Offer Online Shopping
The trend in online grocery shopping is increasing as various popular chains have begun offering delivery methods, whether that's through the store itself or a third-party app. Stores such as Aldi, BJ's, Costco, Kroger, Target, Publix, Walgreens, Walmart, and Whole Foods now offer delivery methods so that customers can order groceries to their door with ease. The large number of retailers offering online shopping now could potentially make the trend more popular than in-person shopping in the future.
Online Grocery Shopping Sales Have Spiked in Previously Underrepresented Groups
Before the beginning of the pandemic, millennials made up the vast majority of online grocery shoppers, with very few other groups taking part in the activity. However, since the popularization of online grocery shopping, large growth has been noticed in baby boomers, Gen Z, and those in both rural and urban environments.
Online Grocery Shopping has Boomed in Numbers––and Shows No Sign of Stopping
A year before the outbreak of the COVID-19 pandemic, 81% of shoppers had never used online grocery shopping as a method, preferring to find their food in stores. However, this number has changed drastically over the year, as nearly 79% of shoppers now say they have purchased groceries online and will likely continue to do so. Between 2019 and 2020, the amount made from online grocery sales in the United States went from $1.2 billion to $7.2 billion.
Digital Engagement Strategies Have Spiked Customers' Interests
The landscape of grocery store advertising is constantly evolving to meet the needs of the current world. Retail chains are using technology to their advantage when it comes to increasing the number of customers, including methods such as video advertisements tailored to each shopper. This is allowing for an unprecedented level of engagement and is drawing more customers into the online grocery shopping landscape daily.
Online Grocery Shopping is the Future
In an increasingly digitized world, which has also been accelerated by a global pandemic, it is natural to assume that online shopping in all forms will begin to dominate in-person methods. After all, what's simpler than staying on your couch, adding a few things to your cart, and having everything brought to you at your earliest convenience? Online grocery shopping, with or without the pandemic, will continue to grow and evolve, and its popularity levels show no signs of stopping.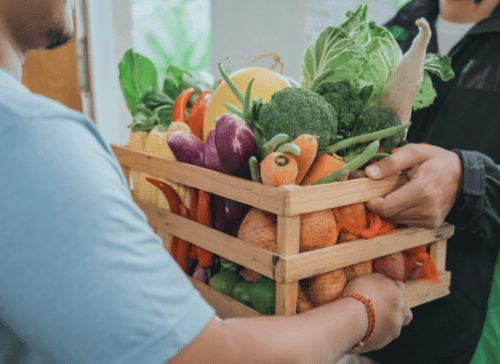 Key Takeaways
The pandemic has caused online grocery sales to soar.
Developments in eCommerce have made online grocery shopping more viable than ever.
Loyalty programs are also on the rise and keep online shoppers actively looking for deals.
On-demand delivery makes shopping online for groceries even more effortless for customers.
Major chains now offer online shopping as an option.
More underrepresented groups are opting to shop for groceries online.
Marketing efforts are more geared toward selling online grocery shopping as an option.
An online grocery shop is likely to continue to grow in popularity even more as time goes on.
An online grocery boom has been looming in the distance for quite a while and is likely already here. This article will cover why online grocery sales are soaring, while also recognizing the convenience of eCommerce and the success of loyalty programs. The article will also note what grocery stores need to do to remain competitive in this environment, as many stores have made the transition.
For more help with grocery store marketing, contact George Goodwin a 3rd generation grocer.
If you'd like to see how well your store could function with IT Retail's POS solution, sign up for a free demo today.